No, I did not turn into a rapper overnight, but I couldn't resist saying, "Check it, yo!" (What. A. Nerd.) in reference to checking me (and some other wonderful women!) out at:
I am super excited to be participating in the first ever Sponsor Swap Sunday at The Memoirs of Megan!
My most wonderful, amazing BBF (best bloggy friend - thank you for sharing the term, Megan, now I can use it allthetime!) absolutely made me blush this morning with the intro she wrote for me.  Love. Her. 
So, go check it out (yo), read some random facts about me (and appreciate my long-windedness, in taking a "5 bullet points" assignment and turning it into 5 mini-paragraphs!  Whoops… tee hee!), and, stay awhile to read more from Megan (and enjoy her pics of the cutest photobomber ever, little Miss Vivien.  Megan and I may or may not discuss a possible arranged marriage between Miss V and Benjamin in the future :-) ).
Peace out, yo, and word to your motha (you know, since it's Mother's Day!).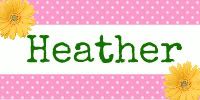 Pin It