Did everyone have a fabu Memorial Day weekend?
Anyone else super psyched that it's now legal to wear white? (Why yes, I absolutely stick to the Memorial Day/Labor Day wearing-white-rules, no matter what "they" say about that rule changing. You'll definitely elicit an eyebrow-raise from me if I see you wearing white pants in November… Because I'm hardcore like that…)
Anyhoo… long weekends aren't nearly as exciting for me anymore since I'm not working, but, it is nice to have Derek home for an extra day!  Per our usual tradition, we went to my parents' beach house for the weekend to kick off the summer.
Derek stayed back and came out on Saturday after a day of clearing our lot, and I went out with Benjamin and Cooper on Friday.  My parents weren't at the house yet when I arrived, so I took Ben to the beach for the first time!  He was not in the greatest of moods, and I think he was a little overwhelmed by the ocean – it was tough to get a smile, especially since I was trying to make sure he didn't topple over face first into the sand (still perfecting his sitting skills!) and take pictures, and act goofy enough to get him to smile.
But, given all that, I'm super happy with the results.  I won't bore you with all 20 300 photos I took, so here is a large sampling from the beach (because I'm mildly indecisive), and some others from our weekend:
Side note: I think there's a "Sh** people with fancy cameras say/do" video out there… oh yeah… that's SO me…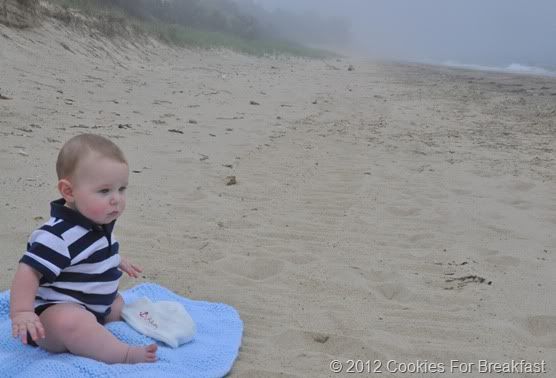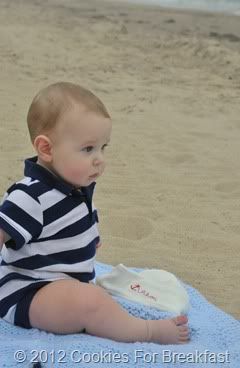 Detail shot because I think I'm artsy like that…
Ahh those lashes!  In another life, I'll have lashes like that…
Enjoyed some time in the backyard…
Since we hardly ever get pics of me with Benjamin, I couldn't resist!  Yes, I realize my tanner has worn off my hands.
We took Ben to his first dinner at the golf club where we had our wedding reception and got some shots of him goofing around on the putting green.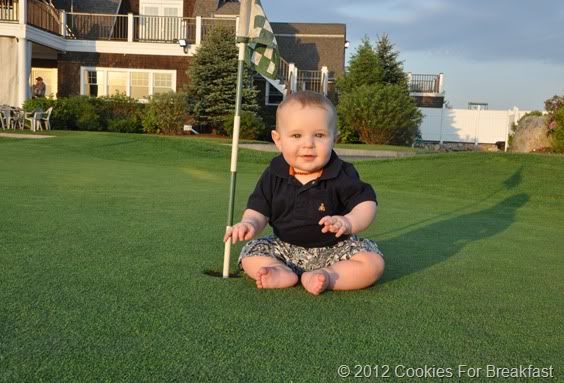 Can everyone please note the adorableness of these paisley shorts?  Derek hates them, but I think they're divine!
You can't see the background, but there's a big rock behind us –  we took pics there last summer when I was pregnant, and at our wedding, and during the wedding-planning process.  It's kind of our thing!
During his first experience in his blow-up pool, I gave Ben his first baby faux hawk, which was obviously long overdue!
I promise you the pool is supposed to be gender neutral… it has a big canopy that looks like a mushroom… so the covered-in-flowers part you can see here is only a small part hahaha!
And, in case you missed it in my previous post, this is my current favorite picture of Benjamin of all time!
Ahh, and now this post is done just in time for THIS weekend! Yikes…
Pin It