I haven't discussed this much on CFB (I mentioned a little here and here), but we are trying to sell the Cookies For Breakfast homestead.  We've got the best piece of land in the cutest little neighborhood awaiting us to build our new home, but we can't even begin to start picking cabinets and flooring and knobs until we sell our current home.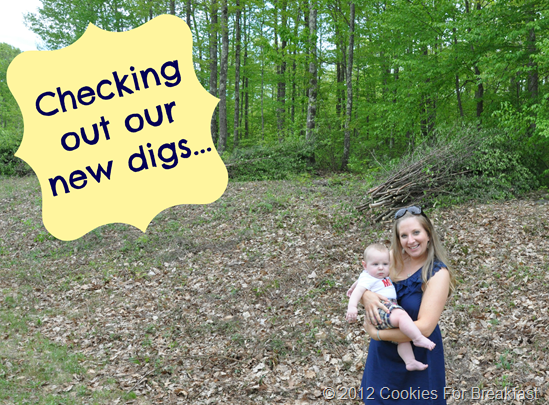 Visiting the lot on Mother's Day…  Oy we both need a tan…
After a long, quiet summer, things are picking up again, and we had two showings this past weekend.  The emotional ups and downs that come along with showings, and the mind-numbing fatigue that comes along with scrubbing your baseboards with a 24-pound baby strapped to your back – it's insane.  And I got to thinking…
Selling a house is just like TTC (you know, trying to conceive!).
You put yourself out there, with hopes of something BIG happening.  You try all kinds of tactics to get it done.
As each day passes, you get more and more nervous.  What if it doesn't happen soon?  What if it's not meant to be?  Will it "take" this time?  What if it never happens?
And you desperately hope that you don't get screwed too hard in the end.
See?  Same darn thing…
~~~~
We took a trip out to our lot this past weekend so Derek could mark it off for the tree-clearing company (who hopefully cut down all the trees & brush with perfection yesterday afternoon), and I took Benny for a spin around the new 'hood in his stroller. 
It was quiet.  Peaceful.  Perfect.
Months ago, I was crazy apprehensive about moving.  We're moving far enough away that we'll have to change doctors, which has always been my cutoff point for moving "far" or "near."  Now, I just want to get things going and settle in.  Not to mention the fact that I'm already dreaming about baby #2 and I really want to have this whole housing situation wrapped up before we make Benny a big brother.
I'm excited to have a house big enough to throw Ben a gigantic birthday party.  I'm excited to have a living room that we can section off with baby gates to keep Cooper away from Ben's toys.  I'm excited to live in a neighborhood – a real neighborhood, not on a main road.  I'm excited to go for walks with Ben on our street, without worrying about getting attacked by an off-leash pitbull, or chased down by a black bear (oh, I didn't mention our current residence has a black bear living nearby?).
And I'm really just excited to live here (or whatever other house design we pick…):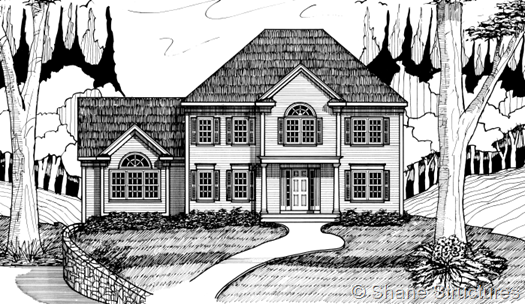 So let's all collectively cross our fingers that we get this show on the road and sell, baby, sell!
Because the next adventure will be about moving in with our parents temporarily, as we build the next house.  I mean, talk about potential blog content…!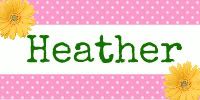 Pin It