Yikes – I can't believe another month has gone by and it's already time for the next A Month in Photos post with Simple As That!
This month was a bit more quiet than last month and I was not nearly as good as documenting our days with my camera.  It was a bit of a struggle to find enough decent pictures for this month.  Which means,  get ready, Ben – you're going to be hearing lots of beeping and clicking during March!
February 2012
Benjamin started smiling and laughing A LOT!  Like, all the time.  Nothing is better than seeing him laugh!
We celebrated our first Valentine's Day with Benjamin (and got to go on a baby-free date!).
We started cloth diapering full time.  I am loving it, and I think Ben is too!
Ben got more tummy time than usual towards the end of the month.  He's definitely getting more arm strength and he rolled over for the first time on the 28th!
Benjamin became more and more curious by the day, and really started examining things, especially his black and white pictures!
Ben started sleeping for longer stretches at night (slightly longer, let's not get too excited here!).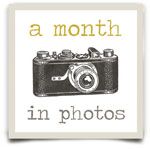 Heather
Pin It