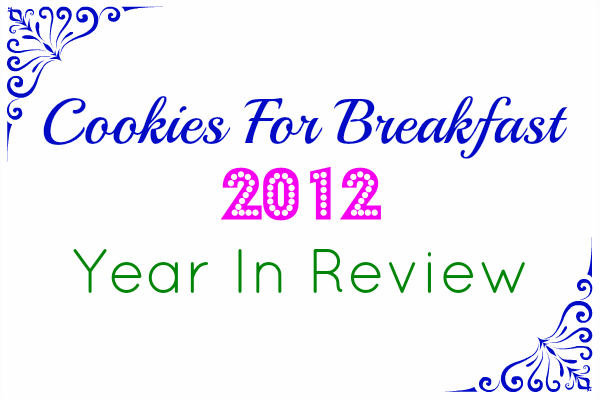 Oh my holy moly – 2012 is over and I can finally jump in on a year-in-review, as I've been dreaming about since before I started Cookies For Breakfast, shortly past midnight on January 21, 2012.  Lucky for me, Cookies For Breakfast began in January, so I can recap all of 2012 AND my first year blogging, all in one shot!

Cookies For Breakfast began when Benjamin was 2 months old, and I was on a several-month stint of sharing our guest bedroom with Ben.  We were waiting for new master bedroom furniture to off-gas (a.k.a. stop smelling so dang much!), which took waaaay longer than expected.  In my first "deep" post, I talked about living in the moment – something I am still trying to get better at.
That January, I shared how Benjamin is a giant baby, something that he still lives up to today – seeing as he's currently the size of most 2-year-olds, at 28+ pounds, size 7.5 extra wide shoes, and quickly moving to 3T clothing. 

We kicked off February with lamenting about how annoying it is when people incessantly ask new parents if their baby sleeps through the night – a milestone we only just reached after over a year.  I also discussed some key baby "addictions" like thumb-sucking, extended pacifier use, etc., and proudly declared that we seem to be escaping most of the addictions.  Little did I know the sleep issues that awaited…
Benjamin wowed me by rolling over, and wowed everyone with his cuteness on Valentine's Day:
March began with my first ever guest blog post at The Memoirs of Megan – the beginnings of the best bloggy friendship (who knew I'd "meet" such an amazing, wonderful friend through blogging?!).  I also reflected on the anniversary of finding out I was pregnant with Benjamin, and the year that had passed.  A bit of time was spent reminiscing about that past year – with flash-flood-memories brought back by certain scents.  And everyone (okay, at least I did) enjoyed Benjamin giggles.

We started April by coming back after my first hard drive fail of the year, with stories from Benjamin's first theater movie experience.  I talked about how being a SAHM is nothing like I expected – I do not have an impeccably clean house, exceptionally well-rounded and educated child, perfectly styled cupcakes made weekly, and gourmet dinners on the table every night.
Benjamin also was unintentionally hit with self-tanner via co-sleeping, and enjoyed his first Easter.  I had a near-miss with bodily fluids in Victoria's Secret that I found fairly hilarious.

In May, I kicked into blogging high gear, by doubling the frequency of posting and figuring out how to set up social media buttons with some fancy schmancy HTML coding,and made my first ever, very own blog buttons.  I also started planning Benjamin's first birthday party. 
Cooper celebrated his third birthday, and overall, really blew us away in how much he stopped being batshit crazy matured after we had Benjamin. Our family also had many big moments including my MBA graduation ceremony, first Mother's Day, Benjamin turning 6 months old (and my subsequent panic attack about this!), closed on our lot where we will build our new home, and Derek turned 30 (okay, that was April, but recapped in May).
After reading, "Heaven Is Here," I was interviewed for an article about Stephanie Nielson (NieNie Dialogues) in the Salt Lake Tribune, which I thought was pretty stinking cool. We had a fabulous Memorial Day weekend that included Benjamin's first trip to see the ocean and going "swimming" in his inflatable pool. He also got his first tooth!
Benjamin and I filmed our first vlog – which is something I hope to do more of in 2013.  I realized there are 8 gazillion things I swore I'd never do as a parent… and started checking them off my list when I started DOING those things!  I professed my love for babywearing and how it's becoming more mainstream, and turned my nose at people who spoke negatively about attachment parenting because of the infamous Time magazine article.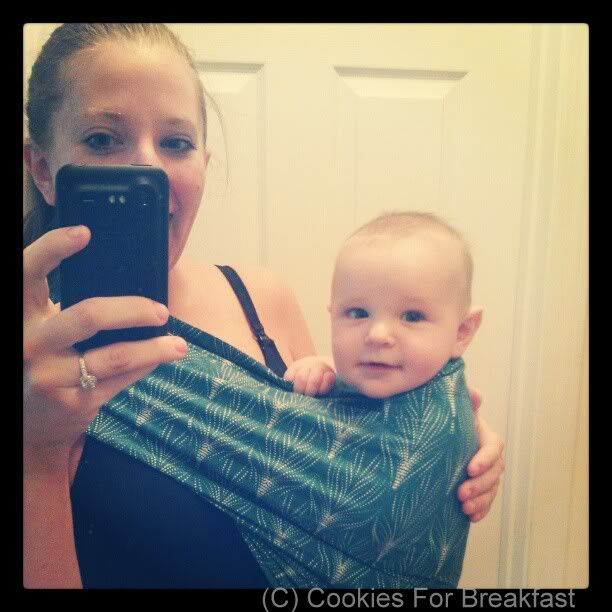 In June (okay, late May), we found out that Benjamin was allergic to dairy – a.k.a. in order to keep breastfeeding, I gave up dairy for 6 months.  It ended up being relatively easy, and coming from The World's Most Selfish Person (me!), that says a lot. 
We celebrated our third wedding anniversary and I made my favorite vlog of all time, in which I discussed my dirty little secret. Seriously. Check it out. It's pretty freaking funny if I do say so myself.
We also tediously planned Benjamin's first solids, introduced solids on Father's Day, and started a blog series, Benjamin Eats, featuring the crazy outrageous faces he made while trying new foods, and recipes.  Benjamin also started crawling in June!  I started a Cloth Diapers 101 series (which I still haven't finished… ahem…) and a Dairy-Free Faves series.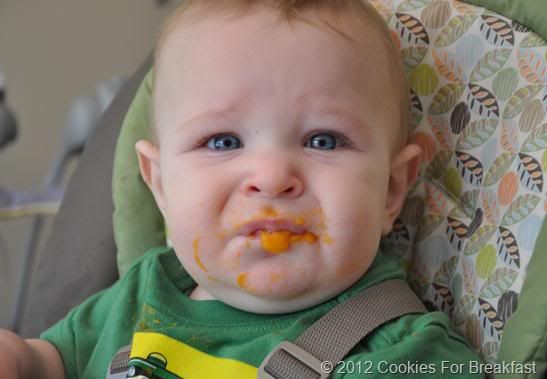 Benjamin's activity kicked up a level when he started pulling up and standing in July.  I started a Friday Funnies series, which I think I need to bring back again!  I was conflicted about being excited for fall and being sad that fall meant Ben's first birthday… and I planned his party some more.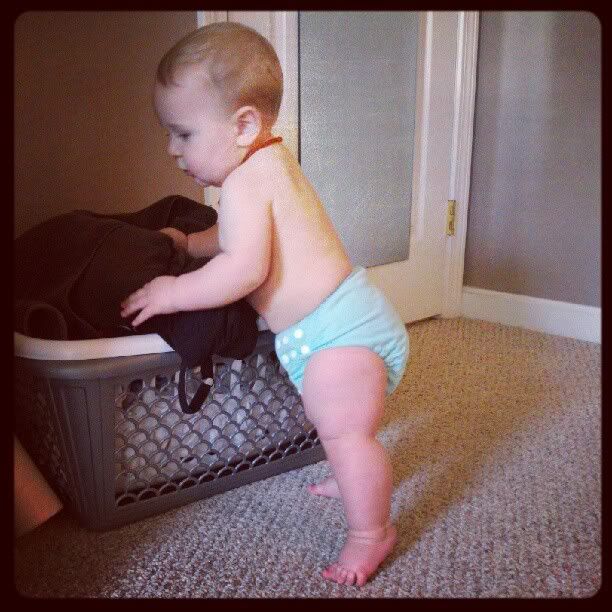 In August, Ben and I had a near miss with a psychotic attack pitbull in our neighborhood – I still thank God for UPS man Steve who I swear saved Benjamin's life that day.  I also shared my frustrations at Ben's 50 shades of bedtime – a.k.a. nipple pulling, face fondling, throat punching, and the like.   That was all small potatoes when reflecting on how lucky I am to have a healthy, happy baby (and that I need to live in the moment more), after hearing devastating news of the passing of a friend's baby.
With August also came new teeth and walking. I struggled with how often I tell Benjamin, "no," and focused on making our home more of a "yes" environment (still working on this!).
In September, I'd reached my almost breaking point with selling our house and anxiously awaiting our new home.  The two most exciting things to happen in September?  Buying my Blissdom ticket and Benjamin walking!  We also had Benjamin baptized (save the stink-eye, we know we were late).
In October, I shared my current most favorite chicken recipe (seriously, try it ASAP).  We took Benjamin to The Big E – New England's multi-state state fair, on quite possibly the rainiest day of the year.  The fall fun continued at the pumpkin patch, and a trip to my alma mater, Siena College.  Mommy guilt kicked in about not bringing Benjamin to any playgroups in his first year of life and vowed to get more involved. 
Cookies For Breakfast got a brand spankin' new blog design and Megan and I began the Mommy Confessions linkup.  We also shoved Ben in a pumpkin for some cute photos, I got awkward and talked about hanky panky, and Benjamin celebrated his first Halloween.

I had a revelation about nursing in public, we had a very, very unfortunate incident with poop, and I started writing for Daily Mom.  At the end of the month, we started transitioning Ben to his own room after a year of co-sleeping.
I wrote about a hundred posts for Benjamin's first birthday in November.  Okay, not a hundred, but this one about his birth story, this one about being a party planning bitch, this one with a super cute, tear-inducing video of photos from his first year, and this one with my most favorite project of the entire year: a slideshow of weekly photos of Benjamin showing his entire first year. 
My pre-motherhood self was disappointed in all the things on my, "I'll never do that!" list that I've actually done since becoming a mom.  My youthful self said goodbye to my 20s.  My crunchy-hippie self gave into the appeal of baby food pouches.  And my guilty conscience took a bit of a break from blogging in my ever-continuing attempts to balance blogging and real life.
December also marked the most horrific event I've seen in my entire life – something I know all of us are still dealing with.
We wrapped up the year by taking Benjamin to see Santa Claus, so we could get those quintessential toddler-freaking-out-on-Santa's-lap photos.  Mission: success. 
And there you have it, friends - 2012 and my first year of blogging.  Thank you, thank you times a gazillion for following along and being such fantabulous readers.
Pin It