So after lamenting about how Benjamin was a year old and I hadn't done a good job at getting him involved in play groups and other organizing activities, and then swearing them off because of my fears of the stomach flu, we are finally breaking out and getting into… swim class!
Derek's brother works at a local YMCA and gifted Benjamin with swim classes for his birthday.  We started in the "Shrimps" class, and seriously… freaking… loved it!  There's nothing I look forward to more than our pool time together on Thursday mornings, and Ben loves it too.  Okay, I'm less than thrilled about getting into a bathing suit every week, but I suppose it's good diet motivation…
Ben's favorite parts of class: when I blow bubbles in the water, "swimming" via kicking his legs, and trying to slip a tiny hand into the top of my bathing suit.
Ben's least favorite parts of class: floating on his back, me wiping away the inevitable booger explosions off his face, and me not allowing him to slip a tiny hand into the top of my bathing suit.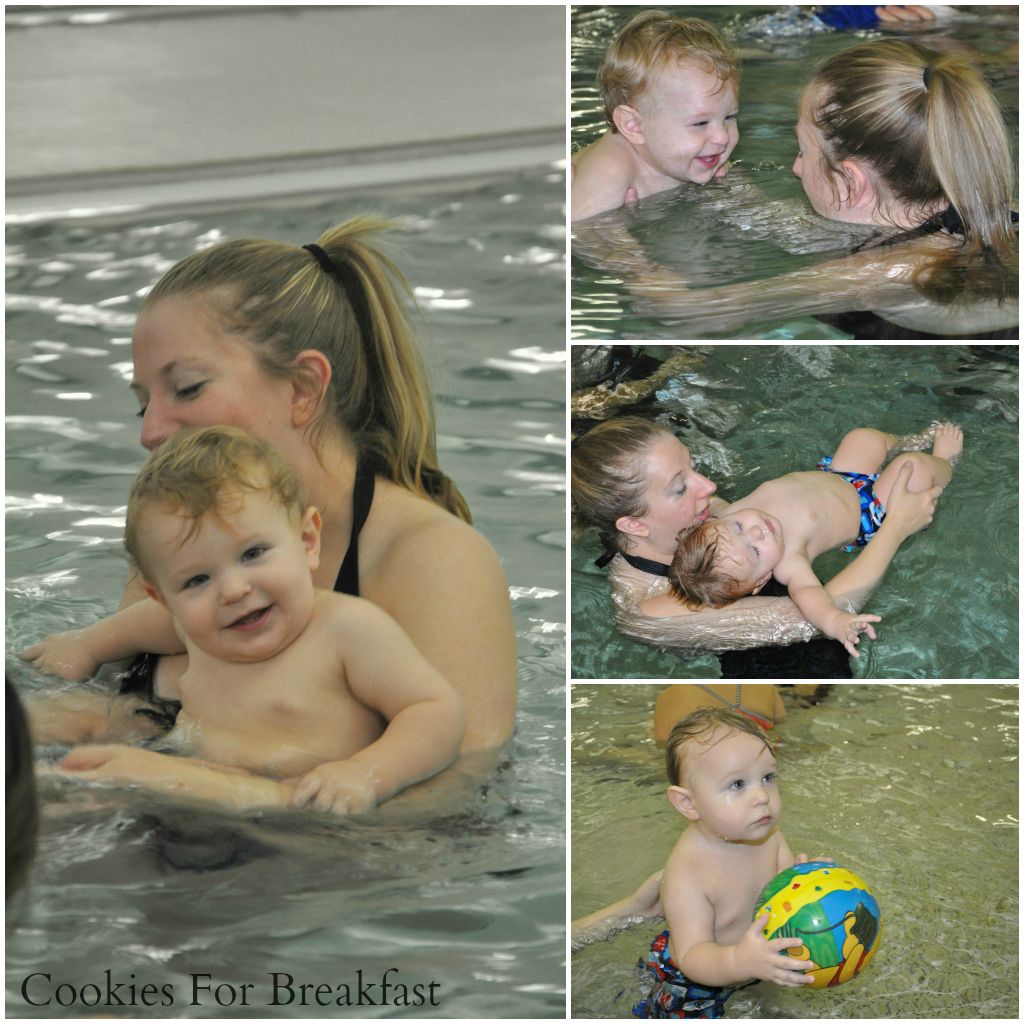 Before the holidays, our Shrimps session was over, and some of the other moms and I decided to move up to the next level class together.  Their sons are about the same age as Ben, and our instructor assured us that the next level, Inias (WTF is an inia?), would be appropriate, even though the age started at 18 months and goes to 2 or 3 years old. 
I was a bit nervous showing up – it felt like the first day of school.  What if the other two moms didn't really sign up?  We won't know anyone.  What if the level is too advanced?  Ben has only had 6 classes so far.  Waaah, what if no one likes us?
Luckily, one of the other moms that I knew did show up.  And all the other kids in class?  Definitely on the upper side of the age range.
Our Benny is the youngest in the class, though he dwarfs all the other kids, who are clearly at least 2 years old (minus our friends from the Shrimps class).  How do I know this?  They're old enough to say their names when asked, and know some sounds that animals make.  Since Benjamin is the same size (or bigger) as his classmates, the other parents are probably assuming that I have a majorly delayed 2-year-old (nothing wrong with that, it's just not accurate).  Except I don't.  I just have a 2-year-old-sized-1-year-old. 
All in all, I highly recommend mommy-and-me swim classes!  Ours are actually pretty inexpensive – $40 for a 6-week class (okay, we get a discount from my BIL which brings the total to $20, but a good value nonetheless!), and it's a great activity for the winter to keep you busy.
What are your favorite mommy-and-me classes to join?
-Heather
Pin It