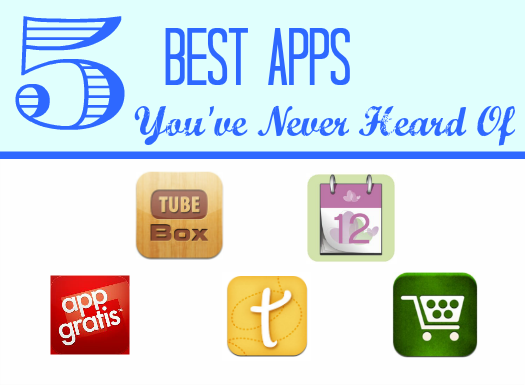 I celebrated entering my next decade by entering the current century and getting an iPhone.  FINALLY.  And now I'm completely in love, far more than any other phone I've ever had.
I've come across some seriously incredible apps that I'm currently obsessing over, and oddly enough, it seems that many people have never heard of them!  Thus, I bring you, the 5 best apps that you've never heard of.  A.K.A., the apps that bring me insane amounts of joy almost every day.  Yeah, I said it.  Apps make me joyful.
---
Timehop
Timehop is the app that started it all for me.  It's available for Android and iPhone, so I had been enjoying it long before my iPhone came along.  I'm seriously beyond obsessed, and if you know me in real life, I've probably mentioned Timehop to you, oh, 800 gazillion times. 
You can link this app to your social media accounts – Facebook, Twitter, Instagram, Foursquare, and Flickr, and then every day, you get a full recap of everything you did via social media a year ago on that day. 
I'm obsessed with reliving memories, so this app is pretty much a dream come true.  Just picture yourself, drinking your morning coffee, and getting your daily Timehop report full of pictures of your 1-year-old when he/she was a squishy newborn.  SWOON.  If there was ever a must-have app for moms, this is it, for that reason alone.  And, if you have an iPhone, Timehop will track all your photos up to 8 years!  Like a little time capsule, delivered daily. 
Truth be told, the actual app doesn't work ALL the time (sometimes the reports don't load properly on my phone), but you also can sign up for daily email notifications, which work flawlessly. 
App Gratis
Aside from getting my Timehop report, App Gratis is a huge highlight of my mornings.  Every day, they offer at least one app (iPhone, and sometimes iPad)) for free or at a reduced price.  For FREE, people!  Too good to be true?  Nope – it's completely legit!  It's a great way to discover new cool apps, and of course, the money savings is pretty dang exciting too. 
I've gotten some amazing (and pricey) apps for free through App Gratis.  Don't even get me started how many hours I spent playing Angry Birds Rio on our travels to Las Vegas… and it was all for free!  I'd be lying if I said I didn't excitedly keep glancing at my phone during breakfast, awaiting the notification that the day's app gratis is available, and wondering what kind of app it will be. 
Tube Box
Ever entertain your kids with YouTube videos on  your iPhone?  Ever curse your cell phone provider when your kid is mid-tantrum, quiets down when you pull up the Snuggle Puppy video, and then freaks out when your cell phone loses service?  Tube Box is the app for you!  It stores your favorite videos so you don't need cell service or an internet connection to play them.  Pretty sure that makes it the best app EVER! 
One of my favorite features is that you can play videos on repeat… automatically.  So, I don't need to frantically press play each time Snuggle Puppy (or The Wiggles, or whatever) ends.
Ask me how many times I've used this app in a Target fitting room (which always seem to have terrible service), in a restaurant, or in the car.  Tube Box is one of my favorite App Gratis finds. 
Fertility Friend Mobile
When we were TTC Benjamin, I was obsessed with the Fertility Friend website.  At the time, I didn't have an iPhone – actually, I don't even think I had a smart phone, but I digress – so I had to log my data via my laptop every day.  Now I get to enjoy the app, so I can enter all my information every day on my phone, easy peasy. 
The Fertility Friend app is free, but you can sign up for a VIP membership that provides additional analysis of your data, extra tools, and interpretation.  I call this, "bringing out the big guns."  A 90-day VIP membership is $16.99, which I found to be invaluable before I was pregnant with Ben.
Dirty Dozen
Ever wonder what foods you REALLY should be buying organic?  The Dirty Dozen (and Clean Fifteen) is a list of the Environmental Working Group's list of the 12 most pesticide-contaminated foods – a.k.a. the ones you should be buying organic.  This app actually lists the top 45 most contaminated fruits and vegetables, PLUS the top fifteen cleanest ones. 
The best part of the app is that you'll no longer be wandering the produce section, trying to remember which fruits and vegetables were on which list.  I use this app all the time when grocery shopping – especially for the produce ranked in the higher numbers (like #25, for example: broccoli), since it's harder to remember those.
---
What are your favorite apps?  Share them with us so we can try them out!
Pin It