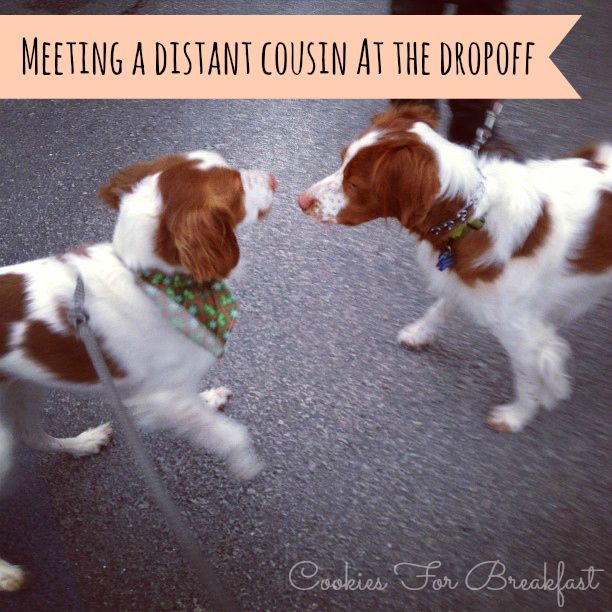 Happy Friday, friends!
It's been a big week here in the Cookies For Breakfast household.  We moved, closed the sale of our home, and brought Cooper to his temporary new home – which is the focus of this post!  Hence this update being called a pupdate.  Stroke of genius, I know.
As the days ticked by this week, I was more and more nervous about sending Cooper to his temporary new home at his breeder's.  Sure, his "birth mom" would be there, and many of his family members, but it broke my heart to think of how confused he would be, and I wondered if he would think we were abandoning him.  Then I thought about his little mind thinking, "I wonder if I did something wrong?" and almost ugly cried.
Seriously, Sarah MacLachlan, get out of my head.
The breeder and I agreed to meet at her vet's where she would be Thursday afternoon, having her puppies' check-ups.  Another one of her clients, and potential back-up temporary home for Cooper (in case he doesn't settle in at the breeder's) was there too, so it was great to meet her and her dog, Charlie – Cooper's distant cousin.  I won't even get into the level of cute that was packed into the breeder's van, in the form of a litter of Brittany puppies and their wary mom.  Anyway, back to the real story – Cooper!
You guys, I just about died when we loaded Cooper's crate into the breeder's van, and almost cried when I put him in the crate, kissed him, said, "I love you, be a good boy," and shut the door.  Oy.
BUT.  I spoke to the breeder last night, and she's emailed me twice with updates so far.  He's doing great!  I'm so proud of my furry son!  Check it out:
"Cooper is in his crate with his half brother and with two older boys ... who seem ok with him and he with they...
He played in the back yard and came in the downstairs himself but when he knew I wanted him (probably sensed crate) he went back outside and then ran upstairs ... door was shut.... I got him in and fed him via bucket (I saw him eating).
I would say he knows where he is or at least that he had been here before.
He is a chill dog." 
He remembers he lived there before!  What a smart dog, eh?  We got him when he was 8 weeks old and he hasn't been back to that house since. 
I really miss having him around, but I am so happy that he's settling in well so far and having fun playing with the other dogs. 
Three cheers for Cooper!
Pin It