You guys.  I look like I'm full term.  This is just bananas.  I can't.  Just can't. 
Other highlights of this week?  Finding the adorable shirt (pictured below) at Kohl's, and a date night with Derek that included Panera, an argument, and seeing Don Jon.  Which was a decent movie, but totally not the plot line we expected.  And there were senior citizens in the theater.  Awkward.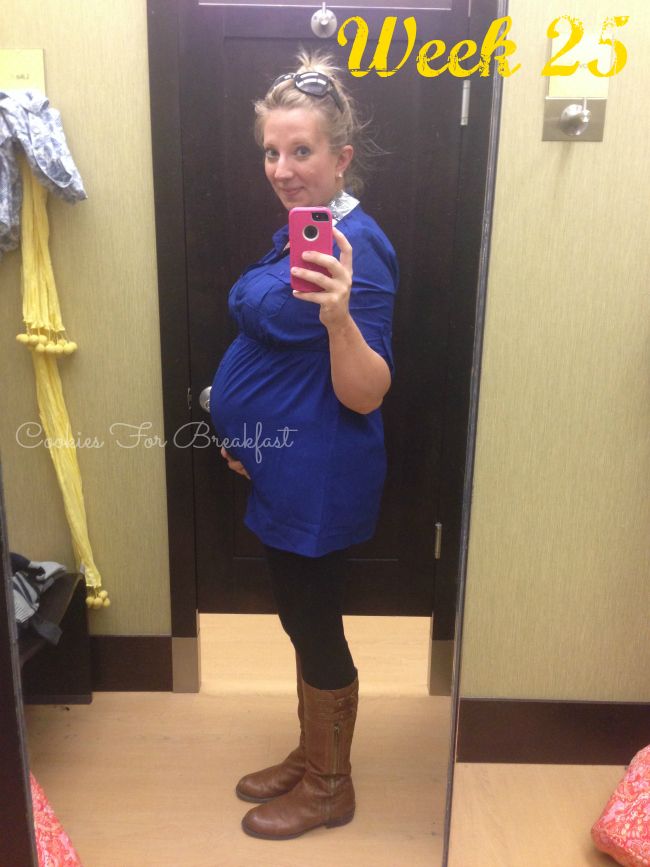 How Far Along:  
25 weeks.
Size of baby:   
Rutabaga. 
Total Weight Gain:  
Remember what I said last week about my stress-induced eating and this week getting ugly for weight gain? 
I was right.
Holy mother, I'm up to 20 pounds.  FOUR POUNDS IN ONE WEEK.  God.  Someone please stop this runaway train.
Stretch Marks:
None. 
Maternity Clothes:   
I'm currently on the hunt for a reasonably-priced (read: less than $50), non-hideous maternity coat.  I'll only be pregnant for a small part of cold weather, but it's long enough for me to consider getting a coat.  I tried a few on recently, and they looked so incredibly awful that I almost abandoned all hope.  But I'm sure that something is out there!  I'm thinking something wool or otherwise comfy, maybe fleece, but fitted and semi-dressy – like, a nice-looking coat.  Not a puffer/athletic coat. 
Gender: 
I'm still kind of leaning girl. 


Movement:    
The baby was kind of quiet last week, but perked up a bit the past few days.  AND, Derek felt him/her kick for the first time, which was awesome.
Sleep:   
The pee situation at night is getting bad.  I'm able to hold out and go once or twice, but it's always uncomfortable.  Constant pee feeling.

What I miss:  
Being able to freely drink liquids without worrying about having to go to the bathroom all the time.


Food Cravings:  
God, anything sweet/baked/unhealthy.  I still haven't recovered from last week's binge and I'm craving muffins, cupcakes, donuts, cookies, and all of that kind of stuff. 

Symptoms:  
The pee!

Benjamin is:   
Holy balls, totally almost two.  We've really been struggling with behavior a lot lately.  I'm obviously a hormonal mess and have less patience for outbursts than usual, and he's really been pushing the limits.  Of my sanity.


What I'm looking forward to: 
Hmm.  How about what I'm NOT looking forward to: my blood glucose test that's scheduled for next week.  Yikes. 


Pin It