I am seriously way late posting Benjamin's second birthday party recap, but considering I still haven't posted his first birthday party recap, perhaps I'm actually early this time around! 
Benjamin is OBSESSED with all things airplanes. He loves the Disney movie Planes, he plays with toy airplanes all day long, and loses his mind with excitement when he goes to the flying field with Derek to fly remote control airplanes.  So, an airplane party was an obvious choice for his second birthday party. 
For his first birthday party (nautical-themed), I created all of the printables on my own – it was kind of a hack job using pre-purchased nautical images and popping them into PicMonkey.  And it took FOREVER.  No joke, I spent hours upon hours upon days upon weeks creating the printables, making sure they printed properly, and cutting them out.  While I love to save money, that certainly was not worth all the time I spent on it. 
This time around?  We'd just moved into our new house a week before the party, I was 30-something weeks pregnant, and trying to unpack an entire house with a toddler before inviting our families over for a party.  There was no time (or patience, for that matter) to be messing around in PicMonkey trying to create adorable printables for Ben's airplane-themed party. 
God bless the people at Vens Paperie for having exactly what I was looking for – adorable, simple, and classic party printables, at an affordable price.  I picked this airplane birthday party package, sent them some brief information for personalization, and just like that, I had PDF files to print out for party decorations.  Easy peasy.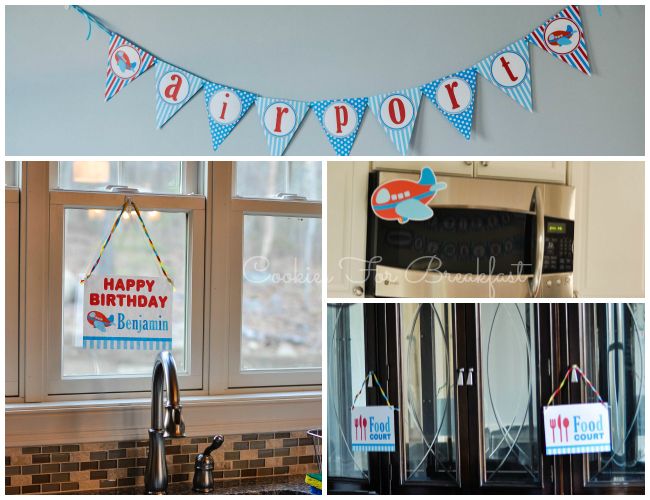 The packages come with everything you could possibly want for a birthday party – bunting-style banners, posters, food labels, water bottle labels, graphics – you name it, and Vens Paperie will even personalize the package for you.  We personalized a few things with Benjamin's name on them, first initial, and of course, the number 2.  With everything that was included in the package, I was able to easily decorate several rooms of our home, so that there were fun little printable surprises everywhere for the guests to see. 
I cannot tell you enough how much easier this made my life!  Our party guests loved all of the decorations and detail that went into the party.  There's nothing like some carefully placed printables to make you look like Supermom!
Some of my favorite decorations were the cloud "trees" with airplanes that I had set up on the dessert table.  The design was pretty simple – I painted clay pots, filled them with green floral foam, stuck a painted dowel in the middle, topped that with a styrofoam ball, and covered the foam ball with fluffed up cotton balls (I pulled each ball apart a bit to make if fluffier and more cloud-like) using a hot glue gun.  I painted miniature and regular size popsicle sticks, as well as clothespins, and hot glued them together to make loads of tiny airplanes to adorn the trees with (as well as other parts of the party).  I found some cute ribbon, wrapped that around the pots with a tag from Vens Paperie, covered up the green floral foam with some shredded paper that I found in the Target Dollar Spot, and called it a day.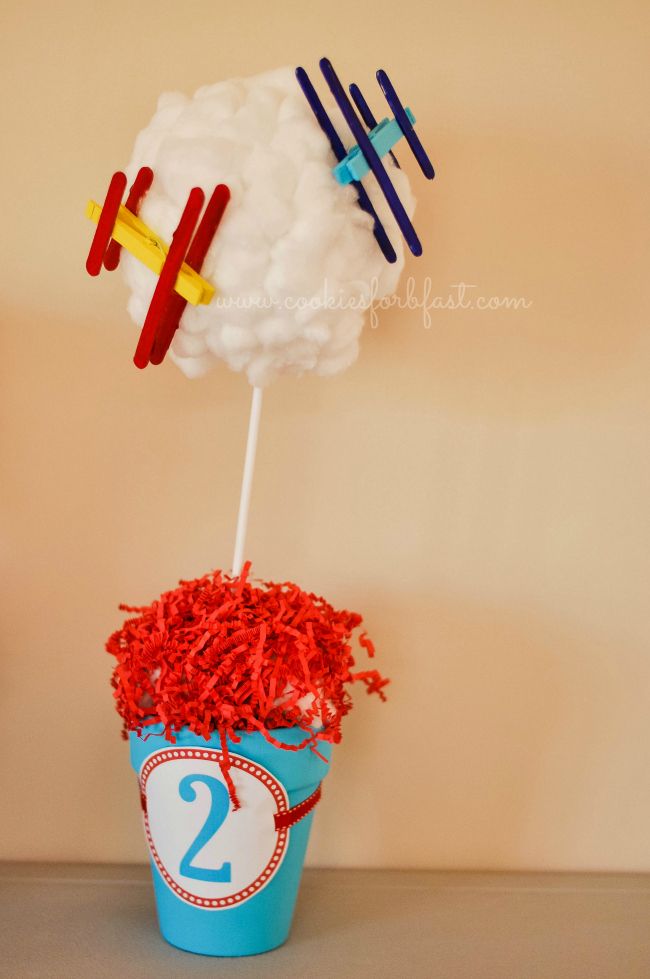 If you can believe it, I hardly got a photograph of my other favorite decoration – an ombre cloth strip bunting - you can see it in the picture below.  This was inspired by the blue ombre birthday party that Mandy from House of Rose did last year – and by inspired, I mean, I copied this bunting exactly.  I found two precut packages of blue fabric strips at JoAnn Fabric (on clearance, no less!) – they were already arranged in an ombre fashion, so I combined the two packages, and tied each strip onto a long, thin rope.  We hung the banner between the two columns that help divide our kitchen and living room, and it looked adorable. 
I used the popsicle stick airplanes and some more Vens Paperie printables to decorate a yarn wreath that I made for the party as well.  Yarn wreaths are seriously the easiest creations, though they're a bit tedious.  I actually enjoyed wrapping the foam wreath with yarn as I watched TV one afternoon – it was one of those mindless tasks.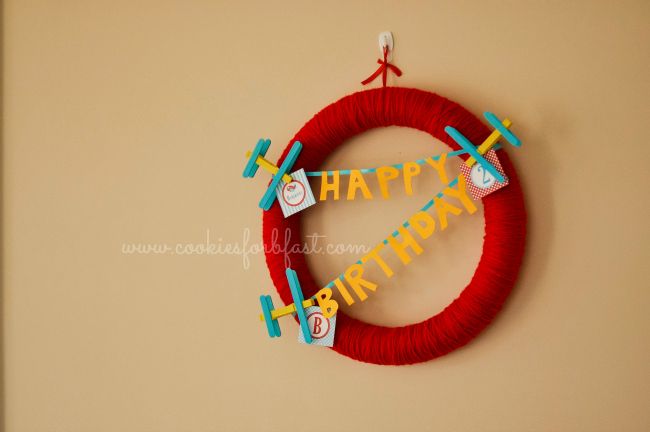 For food, I made a dessert table featuring airplane-themed items.  We had airplane and cloud-shaped cookies, marshmallow propellers, and sky/cloud cake pops.  The Target Dollar Spot saved me again with more shredded colored paper, and cute little silver buckets to put the marshmallow propellers in (buckets were filled with green foam).  I used more green floral foam to stick the cake pops in, and arranged them on a long, narrow plate with more shredded blue paper.  For the cake, I provided the bakery with a sample of the printables from Vens Paperie, and they were able to match the colors and theme design. 
I would have loved to make all the appetizers and dinner items as well, but given the whole just-moved-into-a-new-house-with-a-toddler-at-30-something-weeks-pregnant, we had the dinner catered and our family members brought appetizers and a few items to go along with the dinner. 
And now, a few photos of the birthday boy enjoying his party!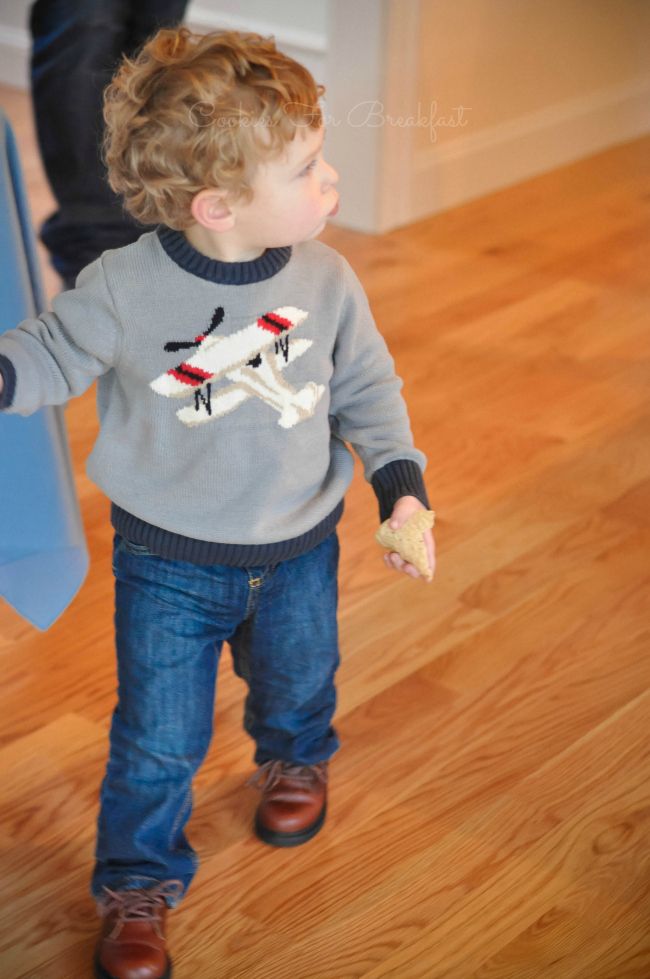 Let's just say Benjamin was NOT feeling photos that day.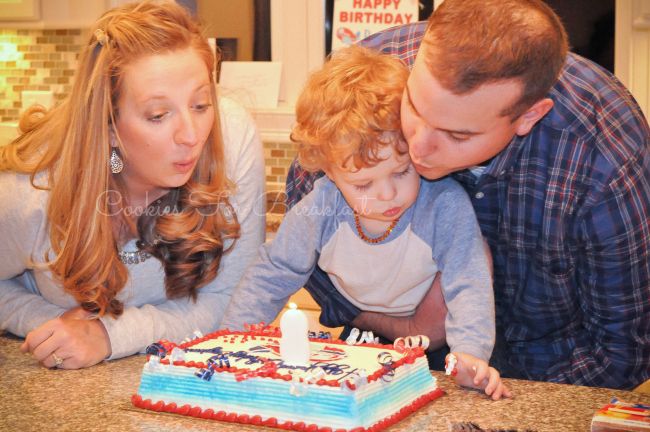 Vens Paperie provided me with a free printable package in exchange for my honest review. 
Pin It