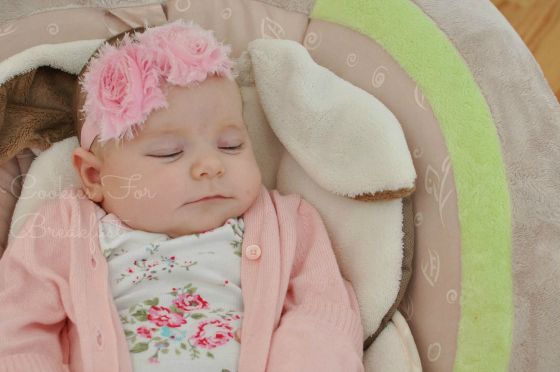 Before Julia was born and people would tell me their baby slept through the night, I thought they were lying. There's no way a baby could sleep through the night, right?  Benjamin was the worst sleeping baby of all time, and even as a toddler, well, he kind of sucks at it.  For at least his first year of life, he was up, on average, every 1-2 hours. 
When Julia was born <gasp> three months ago, the very first night in the hospital, she slept through the night – by textbook definition of 5 straight hours of sleep, anyway.  I woke up in my hospital bed, frantic, wondering if she was still alive.  Minus the second night in the hospital, which was a veritable nightmare of cluster feeding, switching breasts every 5-10 minutes all night, Julia has been a sleeping rockstar. 
From birth, she has woken up no more than 1-3 times a night – usually just once.  She typically sleeps from 9 pm to 4 am, sometimes longer, wakes up to eat, then sleeps until Benjamin wakes up around 6 or 7, and his noise wakes her up. 
While I do believe that you're either born a good sleeper or a bad sleeper, and not much you do can change that, I also 100% believe that there are tools and techniques you can use to help your babies sleep better, whether they have sleep habits like Julia or like Benjamin, who needed every tool in the book.
Enter the Miracle Blanket swaddler. 
This is my top tool for helping Julia sleep well.  Our Miracle Blanket swaddler has been a fan favorite in our house for Julia.  If you have a wiggly baby, a swaddle-escaping baby, or really, any kind of baby, the design of this swaddle is awesome.  It keeps your baby's arms snugly pinned to his or her sides, so your baby can fall into a deeper sleep and sleep for longer stretches of time.  There is no escaping this blanket, no Velcro coming unstuck, and no fabric coming unwrapped.  Because you know what's annoying at 3am?  An awake baby whose swaddle blanket came unwrapped. 
Babies are born with a Moro reflex, which causes their arms to flail out and legs to extend involuntarily because they feel as though they're falling, and can happen when they're sleeping – it startles them, and they wake up.  The Miracle Blanket helps prevent this from waking the baby – they feel more secure - and thus helps your baby get more REM sleep (healthy!) and you get more sleep.  Win win. 
The Miracle Blanket is even guaranteed to stop colic.  Need I say more?  That is seriously a miracle for any parent with a baby who suffers from colic.
She loves her Miracle Blanket!
As a rule, Julia gets swaddled before bedtime at night, but during the day, she usually sleeps for short period of times in her bouncy seat or with me wearing her.  Several times I've tried napping with her – me in our bed, and her in the co-sleeper, and thought, "Meh, I don't need to swaddle her for just a nap." 
Wrong.  Dead wrong.
Each time I've tried, the Moro reflex kept waking her up, and neither of us got any sleep.  I quickly would swaddle her up in the Miracle Blanket, and she would sleep for hours – and thus, allowing me to sleep for hours!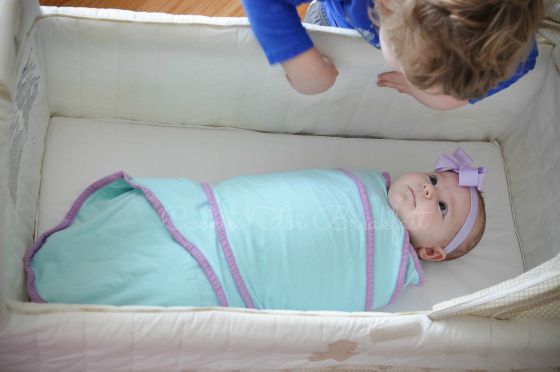 Miracle Blankets do not protect babies from pesky older brothers.  Tee hee.
The material is soft cotton with just enough stretch to wrap around your baby up to 14 weeks old – though I'm thinking we will get some extra weeks out of this because it still fits her really well.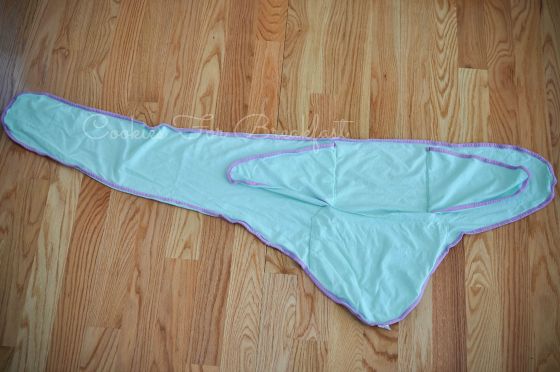 The two inner flaps keep the baby's arms snugly pinned to his/her sides, and the long piece of fabric wraps around the baby several times.  Because that piece of fabric is so long, it's virtually impossible for the baby to become "unraveled" during sleep, and because of the two inner flaps, it's also virtually impossible for the baby to wriggle their arms free. 
Have a new baby?  Expecting a new baby?  You can WIN your own Miracle Blanket this week!  Tell all your mama friends that this one is a must-have, and enter to win!
Enter via the Rafflecopter below:
a Rafflecopter giveaway
Pin It